KidsFun School Holiday Series
School's out, fun's in! Every June and November to December, Primary 1 to 3 children who are from low income families can spend their holidays meaningfully with Youth Corps at the KidsFun School Holiday Series. Together with a youth volunteer who is like a big brother or sister to them, they would go through various fun and meaningful activities together.

Some activities in the series so far includes Coding Games for Kids, A Walk Programme and Nurture in Nature! Stay tuned for more activities.

Coding Games for Kids (Online)
Using CodeSpark platform, youth volunteers and children will solve various puzzles and problems together and pick up coding-related skills such as computational thinking, sequencing and debugging. Not to worry, it's not about learning a computer language and no coding experience or knowledge is required for volunteers! It is about playing games together and increasing the children's sense of confidence in solving problems, working in small teams, and having fun! Be part of the 1,200 volunteers to impact over 400 children.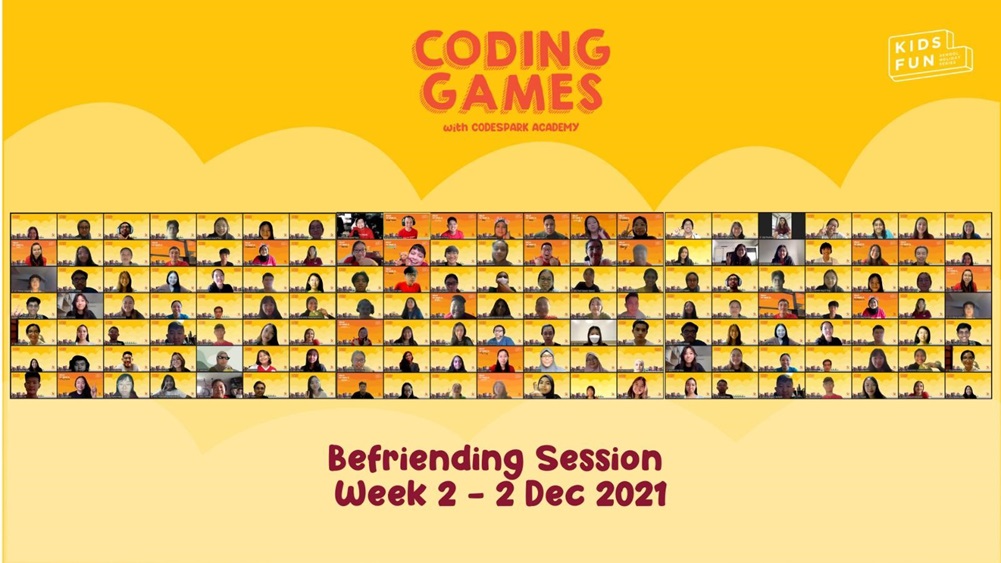 A Walk Programme (Physical or Online)
Want to go for a walk and learn something about our history and culture? The A Walk Programme, in partnership with National Heritage Board (NHB), provides a platform for youth and children to discover more about the various races and cultures in Singapore through interactive activities and trails. When held physically, we would be at Indian Heritage Centre, Malay Heritage Centre and Chinatown Heritage Centre. Due to the pandemic, we also have online tours to these centres. Be part of the 20 volunteers to impact the children.

Nurture in Nature (Physical)
In collaboration with NParks, Youth Corps volunteers and children would walk around Sungei Buloh Wetland Reserve to be engaged in activities to learn more about biodiversity. Unfortunately, due to the pandemic, we have suspended this programme till further notice.

Good news for our volunteers! You only need to commit to a compulsory Orientation & Training session (about 3 hours) and a 3 to 4 hours volunteering session. Join us and be a big brother or sister today! Stay tuned to our volunteering opportunities.